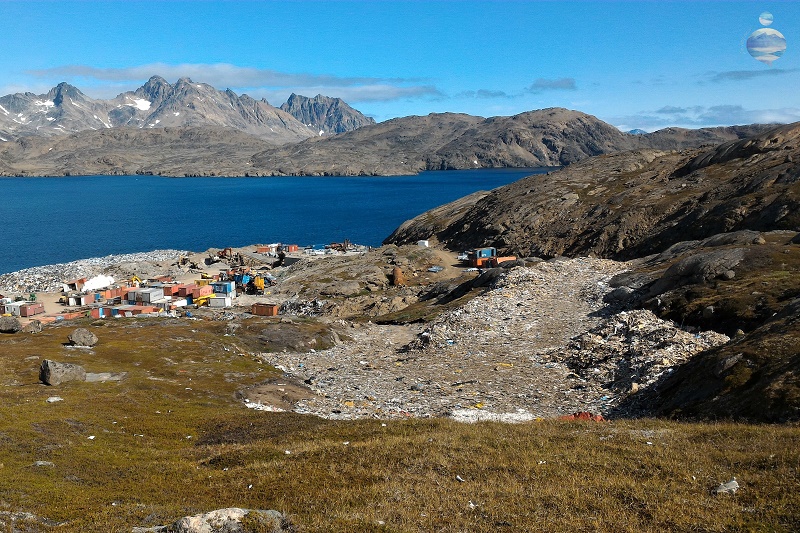 "They should do something about that dump!"
"Something like what?"
"…"
"I mean: what do you think they should do?"
"I don't know. But right there, visible to all who come to Tasiilaq, with the wind making pieces of waste flewing away, it isn't nice!"
Wastes
Conversations about the dump of Tasiilaq had been wasted in the 14 days of my staying at the Red House: those asking how it is possible nobody really takes care of it, many indignant at the mess and some others pretending to be worried for unspecified health issues.
The relationship people of Tasiilaq have with wastes isn't like we would like it to be: there are street corners where pieces of wood and plastic or a couple of car wrecks accumulate, panoramic viewpoints marked by cans or remains of food boxes; there aren't actual waste baskets along the roads, at most bins that get emptied from time to time, so it is difficult to understand where wastes have to be dropped off.
But for what kind of reason do we care that much about what they do with wastes in Tasiilaq? I don't trust in spirit of civilization. If it was because the dirt out there takes away the poetry, we would be really arrogant. That isn't our home, if we do not like what we see, we can go back where we came from.
But for what kind of reason people of Tasiilaq seem not to be interested in the neglect caused by wastes? I made some assumptions:
if some people struggle to earn a living, I think they do care less than nothing about wastes;

if some people struggle to earn a living, I think they do care less than nothing about digging up an hole in the rock to remove wastes from under their noses;

if some people struggle to earn a living, I think they do care less than nothing about spending money to remove wastes from under their noses (maybe by boat);

to build a dump according to engineering criteria we assume as universally acknowledged you should be an ingineer at least, but I don't know how many engineers live in a small town where to graduate you must move elsewhere (you can choose between Sisimiut, on the west coast of Greenland, and Denmark as first options);

when something stays hidden for about 6 months a year under a blanket of snow, does it really exist or is it just an optical illusion?

they do not make packagings in Tasiilaq, it arrives with products by boat. Wastes deriving from local activities are biodegradable, like seal skeletons on the beach or sewage coming out the drainage system, where there is one. Maybe they are waiting for someone coming and get them back sooner or later.
Suicides
I read about them in Robert's books. But hearing about them from a 25-year-old policeman has a different effect. Not just hearing about suicides so frequent to be considered as a minor issue, but also the rough tale about the day he had to undo the noose around the neck of a friend: "No one could have seen this coming". He smiles like he was embarassed.
The map of the World Health Organization about suicide rates in 2015 doesn't show data for Greenland, but there is a study of the International Journal of Circumpolar Health updated to 2011. It says that the annual suicide rate for men and women increased from 1960 to 1980 and have remained around 100 per 100,000 person-years since then. In Italy the suicide rate in 2015 was less than 10 per 100,000 people. Italy is just a reference: italian population amount to 60,6 millions, while in Greenland live less than 57,000 people.
Alcohol and violence
Inuit people do not drink wine, but they do really appreciate beer. At the Red House beer is forbidden. Some people say it is a genetic matter: inuit people would be lacking the enzyme that metabolize alcohol, they would be intolerant to it basically. Some others tend to an environmental theory, according to which socio-economic-cultural contingencies can push individuals to consume and abuse alcohol. The reality is that:
it isn't infrequent to meet drunk men or women along the roads, at any time of the day and on any day of the week;

when you get out of the bar of Tasiilaq on a friday evening at 10:45 p.m., that is 45 minutes after the opening, you can find a woman lying and straparla e, mentre tu ti chiedi cosa fare e ti soffermi più del dovuto a guardarla, alcuni ragazzi mimano la situazione e ti chiedono in inglese "did you understand now?";

behind the village, but not so far from the houses, you find tents. They are not summer playground for children, but temporary abodes of men who lost control while drunk and became aggressive;

it happens that one day the police SUV goes through Tasiilaq in a rush five times in a row to intervene against domestic violence situations;

near the hospital there's a building where some kids are gathered together from friday afternoon to sunday evening. The community is small, then  it's easy to know which families are in the greatest difficulties because of alcohol abuse and violence; so kids are distanced from home during the weekend in order to avoid them to suffer violence or, more simply, not to attend adults loosing control.
The beauty of some places is like the intelligence of some people: it makes you happy and obscure the less pleasant features. But nobody can delete what he doesn't like, at most he can try to ignore it. Reality, though, can't be erased.