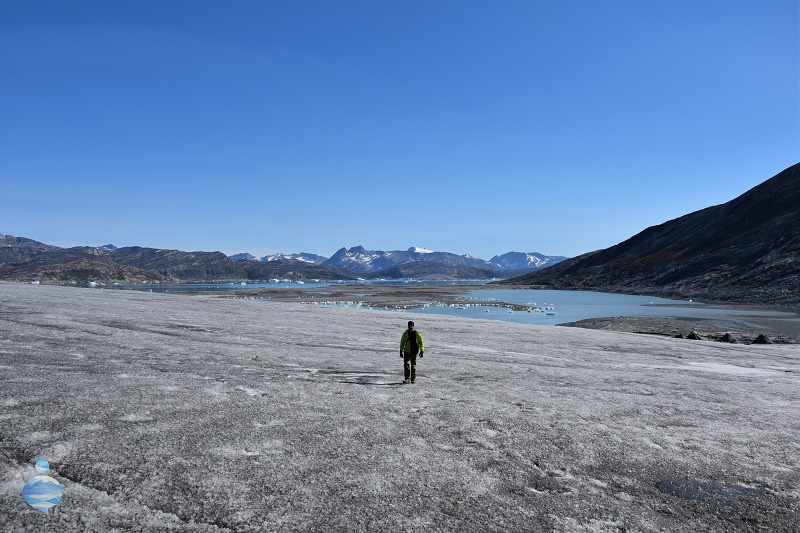 East Greenland isn't just land or blue color, but also encounters that show you a new intimacy. You can see anybody for the first time, but you are going to feel a sense of déjà vu anyway. You'll go on asking yourself "where the hell have I met you before?" also when you are back home eating pizza in its box at your neighbours' house. Neighbours you met in Greenland.
Lucia is italian and she is a photographer based in Bruxelles. In accordance with the general roule of the Red House that those who have been hosts for some time help the newcomers to take the measures of the new world, she bring me to the little house is going to be my accomodation for a part of my staying. Short hair makes her look like a little girl, but the small wrinkles that appear at the corners of her mouth when she smiles forewarn she being almost forty. For me she has been Miss Big Eyes because of her big shining eyes, brown and liquid like hot chocolate. She got to Tasiilaq with the desire to know the place and, as everybody else, she understood you need time, so she planned to come back in winter.
Edith, instead, is german. Very sporty and self confident, she has a wild and undisciplined head of hair and a fringe that gets to her blue eyes without her being bothered. She got to Greenland thanks to Martin, the guide of her travellers' group. She met him in Nepal ten years ago and then they met by chance in the german mountains last spring. He told her she couldn't not go to Greenland almost once, so here she is, ready to jump in my kayak for her last day of travel. She speaks imperfect, but very handy english: she gets straight to the point. Her face is angular- very masculine – and constrasts her irony. Thanks to her I discovered the ice cream of the tourist information office that I commited to eat every day, around 4 p.m.: Edith asked me to promise to follow the ritual, so it will be like she'd stay in Greenland at least as long as I'll be here. She decided to spend her last night seated on the Red House's porch smoking a cigar and drinking wine, hoping to see whales and northern lights. In the end she'll leave with the loot of a falling star.
Bertrand and Marina too are german. She teaches music and wants to learn italian because of its musicality. She's very sweet and wavering: she could form intire sentences in italian, if only her mind wouldn't empty in times of need, so she asks Bertrand to translate in english from german. He is a doctor. In like half a day he told me his life and the bind with the one of Marina. They met at highschool and then lost touch for at least 30 years. He finishes by saying their second encounter was the beginning of a new life for both of them. The connection eludes me and I try to explain to him my doubts, but there is no way to unravel the mistery. Since Bertrand volunteer himself as appearance in my pictures on the ice-cap for reasons of order of magnitude, the mistery keep on persecute me together with the "where the hell have I met you before?" question.
Hubert and Helga speak ladino with each other, german with those who speak it and italian with italians. That is you are jealous of them from the beginning. Both are tall (but very tall) and thin, they are experienced walkers. He is silent, peaceful and patient, to the point I bet he takes perfect pictures also with long time of exposure and without tripod. I like to think they transmit words to each other, with Hubert saving them to let them being used by Helga. They brought me on a mountain top in the surroundings of Tasiilaq, where we attended the only greenlandic snowfall of our staying, which set forth my eternal gratitude towards them. We agree as soon as I'll be in their neighborhood, I'll drop by and say hello.
An honorable mention goes to Umberto, a geologist from Vicenza busy guiding italian groups, who revealed me the secret of the laudry with public restrooms of Tasiilaq and with whom I created the monster of the night wait for the aurora borealis. The syndrome developed within the italian groups and ended up involving some german people who, in the morning at breakfast, was asking the app name for the aurora forecast. Vicenza won over Bergamo in number of northern lights sightings, but the time for a re-match may come soon.
The last reference is for prof. Wilfried Korth, german academic who answered with moving passion to my request for information about the researches he was doing. Wilfried is been studying the greenlandic ice cap for the last 15 years and he relies on the knowledge of Robert Peroni for the crossing of the inland ice from east to west, during which he collects data on the field. In practice he is one of the many invisible faces who ask themselves how the hell the climate change matter works. Wilfried leaves every two years for the ice cap crossing that lasts about one months and during which he drags a sled of about 130- 150 kg; with him a couple of colleagues/ students. He simply explains what they do and why in the satellite data age you still need an expedition on the field. First he shows graphs and then a gallery of pictures taken in the previous crossing: pitching the tent every night, the white expanse of the ice cap that seems flat without never being as far as the eye can see, he crossing a small stream formed on the frozen surface. He loves his job. His plans for the future are clear in his mind. He just hopes Robert keeps on staying healthy, because his experience is fundamental to arrange the expeditions. Without considering 15 years end up linking by friendship two men.
The day of my arrival, after dinner, I met Daniela and Corrado. Lucia told me they are from Bergamo, so my desire to meet them sank. In the end I discoverd they live in Torre Boldone, 10 minutes by foot from my house. 100 m as the crow flies. Officially never seen before, I can be sure to have at least bumped into them on the street for statistical probability reasons. Together we complain about not being in Tasiilaq anymore with the same dedication we started to plan our comeback in winter. We ask themselves in vain if we are going to run into someone we met in august: the greenlandic effect of déjà vu could let us bump into friends made in another life.