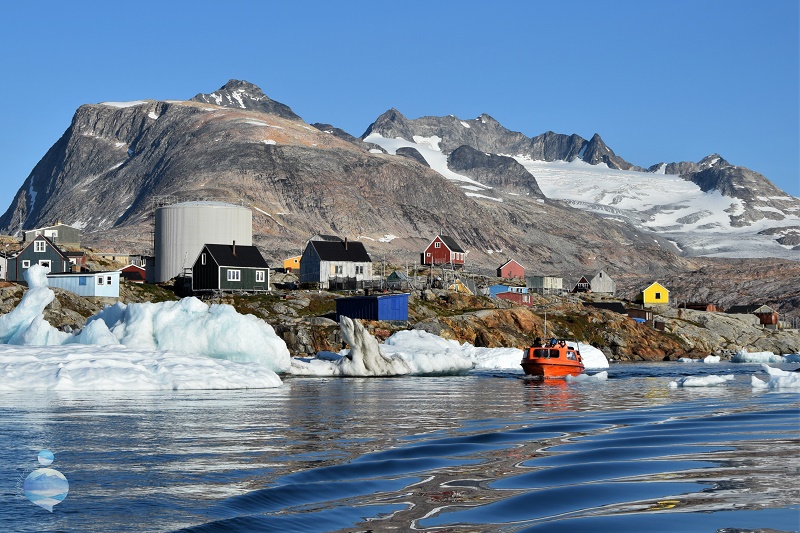 First thing to do in Tasiilaq: make no plans.
Second thing to do in Tasiilaq: avoid life-you-are-used-to categories.
Third thing to do in Tasiilaq: say yes to Robert's propositions, because low clouds don't last forever and you can climb over linguistic limitations like small wooden fence when you really want to understand each others.
Robert asks what you want to do: "are you a sea kind of person or a mountain one?". But the answer he prefers is that you don't matter, that every proposition is the right one, because this is the best attitude: you can't be nothing but satisfied by what comes.
Breaking the ice by kayaking
Kayaking was the first thing I did while staying in Tasiilaq and, in hindsight, I thing it was the best one to break the ice. You don't need to be skilled to enjoy paddling, but you need some sense of balance and endurance in your arms. If it is sunny, only the strain limits how much the ride lasts, whereas the ocean is always calm being within a fjord; gliding over the water gets tougher while tidal variation or if the wind picks up.
The kayaks at your disposal have a hull with almost no curving, so they are very stable; manoeuvrability instead is ensured by pedals, by which you can direct the rudder. By the way, an expedient: be sure the rudder is into water before getting on board, so you avoid flipping while trying to immerse it… just indirect experience, for me no unpredicted plunges. Anyway only while getting on and off there's a risk to fall into the water, but in those moments you are close enough to the Red House to be able to batten down the hatches. Maybe avoid to bring your camera and your backpack with you, so you won't sacrifice nothing but yourself!
Kayaking fascination is about being seated into the water staying dry. The water is so dark it seems rubbery and, once you get in the rhythm, you don't feel the friction. The air is crips and oppose the warming of your body perfectly, so you don't need neither gloves nor wind breaker; a wind stopper is enough and it also protects you from water sprays. There are always some icebergs adrift in the fjord and kayaking allows you to get closer to better taste their shades: the sweet Smurf's blue, the aquamarine alkalinity and the thirst-quenching white. They tell you creaky goodbyes, leave parts of themselves with painful thuds and silently let themselves disappear.
Boat trips
Tasiilaq is on the Ammassalik island, about 770 km2 that you can sweep on foot following the few marked paths or trusting your legs wisdom and your orientation ability. If you are looking for calving glacier fronts diving into the sea and whales or if you'd like to visit another small village, boat trip is the only solution.
Those who don't wear layers are lost, as well as those who expect comfortable trip in an heated cabin. Boats carry 12 people at most and are spartan motorboas that offer wide visibility in exchange for wind and possible jumps if the ocean is not that pacific (after all you are floating over the Atlantic).
Moving by boat strikes you how it is like to live here. It is partly because the inuit mainly live off sea animals, seals- orcas- whales- their catch, and also because they live on the coast, clung to the rocks, just above the high water mark, and it makes more sense to measure the distance between villages in hours of navigation rather than impassable kilometres as the crow flies.
Robert offers three solutions: the Ammassalik island circumnavigation, the Nattivit ice cap and the Rasmussen glacier.
During the circumnavigation you go ashore to visit an abandon settlement made of 3 houses and a cemetery of wooden crosses that you can count on one hand. Shortly after you get to a super- crowded (118 invisible people) village of Tiniteqilaaq, that everybody calls Tinit, like an old friend: it is impossible to forget it, overlooking on one side a narrow spit of sea that divides it from the Ammassalik island and on the other side the immense Sermilik fjord, covered by icebergs calved from about ten glaciers. The last stop is in Ikkatteq, where there are the remains of two traditional houses, then you cross a stretch of open sea that everytime offers the show of whales and you get back to Tasiilaq.
The Nattivit ice cap excursion requires endurance in navigation, because it takes a couple of hours to set foot on land (actually on a spit of land made of the sediments released by the glacier front). Here the ice cap, the ice sheet that covers the greenlandic backcountry, climbs down making a convenient slipway to get on and off it. You walk on a rough and cutting surface of ice for a few hours without being able to get a sense of how big the inlandsis is. You jump crevasses, listen to cracking as fascinating as sinister and the water that flows "somewhere, down there". You contemplate deep blue puddles with brown sediments like they were the mirror on the wall. Sometimes you glimpse small waterfalls whose rumble goes deep down into the glacier and your body. If you are lucky, a group planned one night in a tent at the foot of the ice cap and you can join them and let the cold strengthen you. On the way back you sail along the glacier front to review the white-blue-grey shades and try to compress a mountain of ice in a photo shoot. Whales sprays distract you from the resignation for going back to Tasiilaq and, maybe, some of them caress the water just a few meters from the boat.
The Rasmussen glacier, instead… I didn't see it, because the boat trip was planned for the day I left. So I have to go back. But I got an idea of what I lost thanks to a small photo album of the Red House.
Anyway Tasiilaq isn't just a starting point. You can also take a break in Tasiilaq.