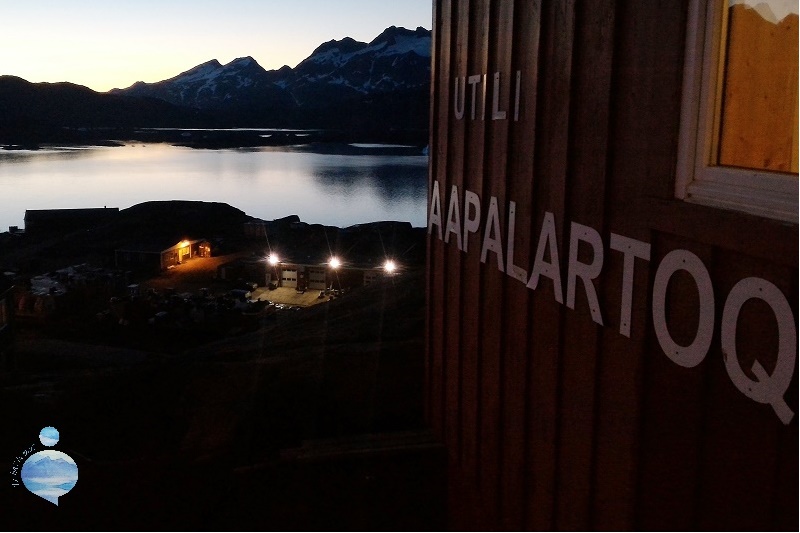 I decided to go to Greenland, but I wasn't satisfied about the idea to make a tour trying to visit the most in the available time. If Iceland had been mostly a recall of places, Greenland was the land of Inuit and I was interested in this "belonging". So I wrote to Robert (Peroni) hoping to receive suggestion and then I realized I just needed to leave for his Red House and the rest of the travel would have composed by itself.
Robert Peroni
"We do not know it, but he is Santa Claus actually". He is a beanpole, but the question arises because of his laugh that isn't an "ah ah ah", but a well rounded "oh oh oh". And Robert laughs frequently, in spite of the myriad of things to do and the unpredictable weirdness of the travellers: some people leave for Greenland deciding they won't need a windbreaker and so they get sick before the end of their trip; some others, expecting snow- cover on the coast also in summertime, say- a little bit disappointed- they expected Greenland to be more whiter; others again looking for anyone guilty for rainy days rather than enjoying the time passing dense, and lastly those who judge the life in Tasiilaq without any interest to understand why it goes this way… But Robert is used to it and maybe he doesn't even care. He's here because he has found is home and in the inuit people mutual feelings and inspiration, so he tries to help them through the activities of his Red House. They trust Robert and Robert does his best to fulfill the travellers' requests in full respect of the lifestyle of Tasiilaq.
I don't want to speak for him, anyway, because his books do it perfectly and he does it when you are his guest. Instead I talk about the pleasure of meeting an over-70-year old man who makes jokes as a child and is demure when you ask him about himself, but always ready to give you information when you are curiuos and respectful of his home.
"I hope you came here because of Greenland and not because of me".
He's right. Even though it is thanks to him if there is a reality able to match your curiosity and the inuit people needs.
Reaching Tasiilaq
The only way to reach Tasiilaq is to fly via Reykjavik and changing airport: once you land at the Keflavik international airport, located about 50 km far from the icelandic capital, you go to the Reykjavik domestic airport to take the flight to Kulusuk; from here you go by helicopter or by boat for the rest of the way to Tasiilaq.
The trip, that on the way back was an annoying and neverending surrender to hot weather and to the crowd, on the way up was a step-by-step and libidinous approach to Greenland. The arrival at the Reykjavik domestic airport, with its four big rooms and one gate, gives you a sort of insight into the more sober and less crowded world you are walking in. In fact on the airplane to Kulusuk there are you, a danish girl going to meet her boyfriend who lives in Tasiilaq and two inuit families, for the rest free seats and propellers turning out of the window. In Kulusuk the airstrip isn't paved and the airport is made of one hangar for the airplanes and one shed to manage passengers and baggages; outside nobody is waiting and there are no parking lots, but just a road, not paved as well, that leads to the village of Kulusuk, 400 inhabitants or a bunch of houses that fits into a picture taken from the helicopter.
The helicopter flight lasts 15 minutes and offers you a perspective you are going to give up with regrets: it is like not being fully in the air, close enough to be able to clearly distinguish dimensions and profiles of icebergs and houses, but at the same time high enough to get the impression to look a large slice of the east coast. Like you were looking Greenland in the eyes and not walking all over her. The transfer by boat gives you another half an hour to realize you are less than one degree of latitude from the Arctic Circle (latitude of Tasiilaq 65°36′52″ N vs. 66°33'39" N latitude of the Arctic Circle), but you can catch up on the boat experience during your staying, considering there is no alternative to move over long distances.
The Red House
Actually it is called Utiili Aapalartoq, that is the greenlandic version for the Red House. It is conceived as an alpine lodge: ten rooms without private bathroom that overlook a shared space where you eat (two meals per day served by four women and cooked by an inuit cooker) and you pass your time.
In fact, in addition to the main house, there are 5 outbuildings. One of them is red as the main building and is called "the Expedition Lodge": right alongside the Red House, it is a small house of two floors that hosts groups passing by. Behind it there's a little more spartan version of green color that works in the same way. For the more demanding hosts, the "Hotel The Red House" has been built, red in name and in essence as well as the main lodge and marked by room with private bathroom, laying a little further from the main house, but closer to the heliport and the "center" of Tasiilaq. Going on uphill along the Utiili Aapalartoq's road, you reach Robert's house, perfect shelter for an hermit, if not for the 5 single rooms available for guides and more flexible travellers. And finally, near the more southern promontory of Tasiilaq, there's the camp site run by the Red House.
Maximum capacity, campers excluded, 54 people that gather together to eat in the shared space of the Red House, invading also the library table if necessary. For breakfast bread and cereals, jams and speck, fruit in syrup and eggs, milk and yogurt, tea and coffee, then the set- menu dinner follows, starting with appetizer and ending with dessert. The cooker mixes local ingredients with recipes from Alto Adige creating a tasty and abundant cuisine, hardly suitable for vegetarians and vegans.
Here three distinctive features of the staying at the Red House:
there are no preset and conclusive plans, but you live in the moment adabting to the variability of nature, that makes the fog unpredictable like sea conditions, and to the risk of polar bear appearance (which you must take into account if you want to cross on foot a territory far from flat, then perfect so that nanuq can play hide and seek and crop up past the end of your nose);
there are basically two language groups, german and italian, with rare incursions of english and french. The weeks pass by in a sort of a turnover of the german and italian dominance, with an inevitable partition in opposite parties that you can muddle up if you leave the comfort of your mother tongue for english or the desire of trying to understand each other somehow;
the inuit people who work with Robert remind you curiosity is not synonymous with intrusiveness, respect depends also on how you manage space and communication isn't just saying words.
What you can do while staying at the Red House, that's a different story.